Welcome to Oktoberfest Songs
What are the most popular songs at Oktoberfest?

So you've got seat on a bench and are surrounded by friends. You're juggling a huge mug of beer with an oversized pretzel. There are women in beautiful Dirndls, lederhosen lads and a cracking atmosphere. It's a perfect Oktoberfest. But there's one thing missing that you can't quite put your finger on until…..
Ooommmmpaaaah! Ooommmmpaaaah! Da dee da dee da.
Of course! The music.
What would Oktoberfest be without it?
Who hasn't got their own favourite Oktoberfest song? If not, just stick around this site for a while and I guarantee you'll end up with one! Whether you're looking for Ein Prosit lyrics, a "swim, swim, swim" Fliegerlied translation or music ideas for your own Oktoberfest event, oktoberfest-songs.com is the place to find them.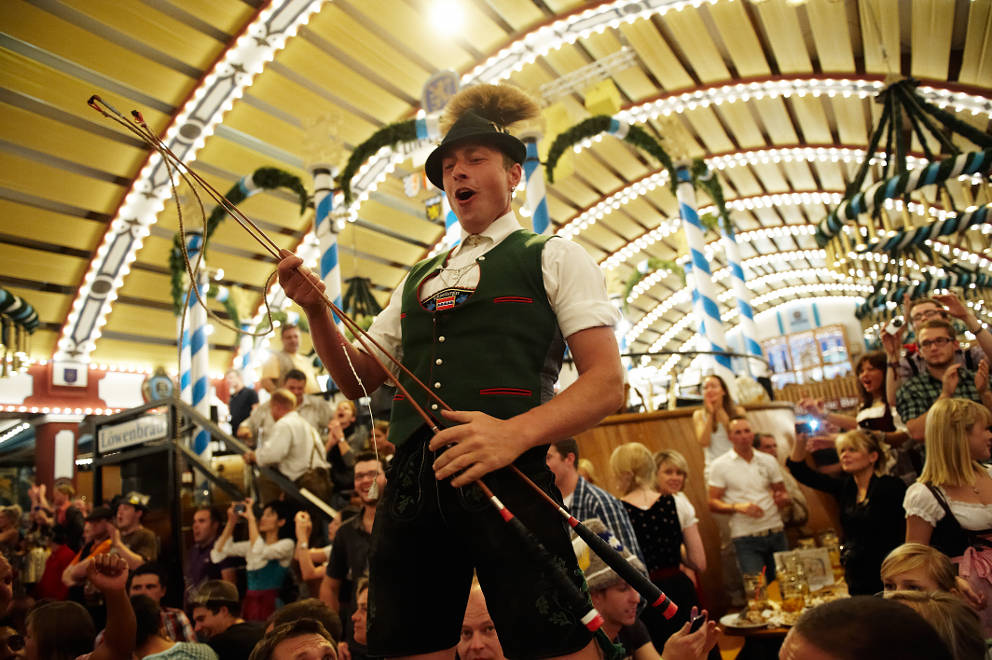 Get your party on!: The Oktoberfest is so much better when you know the words to the songs, like this guy! Pic: Frank Bauer
Feature video: Fliegerlied
This has got to be THE most popular Oktoberfest song that's emerged over the past five years or so and its popularity doesn't show any signs of slowing down yet! When rows of Oktoberfest revellers stand up on the benches and start pumping fists, grabbing each other by the hands and pretending they're tigers you know the
Fliegerlied
is afoot.
See here
Fliegerlied lyrics
for the words in English and German and more info about the song.
What makes an Oktoberfest song?
A wise dude once said there are only two kinds of people in this world: those who like to categorise things and those who don't. I'm one of the former, and I say music at the Munich Oktoberfest can be split into four can be classed into four groups: brass-band music, classic Schlager hits, English-language anthems and modern pop.

Brass-band music (Blasmusik) is played during parades and early on inside the beer tents before people are game or inebriated enough to get up on the benches and start swaying around. The one exception is Ein Prosit, which is played every 20 minutes or so no matter what time of day it is. Ein Prosit is also one of the few Blasmusik tunes to have lyrics, otherwise they're pretty much always instrumental. You can learn how to play it here: Ein Prosit sheet music.

German Schlager songs (which simply means "hits"in English) were huge in the sixties and seventies and are now back with avengeance. Hallmark themes are love and nostalgia, rhythms are light and poppy and accompanying dances are invariably silly. These are songs to dance, sing and remember to. A few examples are Cowboy und Indianer and Er Gehört zu mir.

The Munich Oktoberfest song scene is understandably dominated by
Deutsch
, but the English language is by no means ignored.
Pop, rock and disco unkillables like
I Will Survive
,
Highway to Hell
and
New York, New York
are regularly belted out as the evening party atmosphere takes over in the tents.
To round off, we have modern party hits that snake up the German charts.
German, Spanish, English, hip-hop, ballads and head bangers, anything goes, as long as it's popular!
The bands in the Oktoberfest tents don't follow any rules –they just play what they think will go down well.
If, say,
We Speak No Americano
gets a roaring response in one tent, pretty soon it gets played in all of the tents a couple of times a day. The most popular songs in any given year are dubbed "Wiesn Hits". These songs can then make it onto www.oktoberfest-songs.com and their immortality is sealed.
Each entry on Oktoberfest-songs.com has an intro, rendition from YouTube and lyrics in both German and English. All but a couple of the translations I've done myself. They aren't available anywhere else on the Web so you can consider this an exclusive. Hope you enjoy it all and don't forget to leave your comments at the bottom of the page!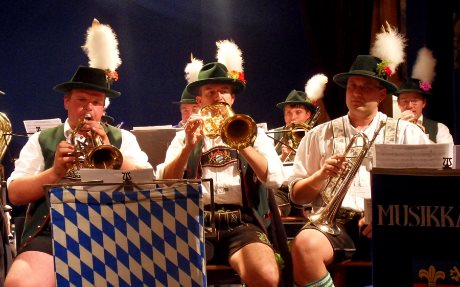 Pic: digital cat 
So why this site?

Hi! I'm Stu and I started this website in 2008 during a six-year stint living in Bavaria. I also started a general travel website about Munich and Bavaria at www.destination-munich.com.
Some of my most popular pages on Destination Munich were about Oktoberfest songs. People love them! They look for lyrics, translations, inspiration.
So I thought it was about time to start a website devoted to ditties played at the famous festival.
I hope you enjoy it and if you have any questions or suggestions about what to add, please write in or leave a message below. Prost!

Sharing is sexy!
Spread the love and tell a pal about this particular page....